Sunday, December 5, 2010
Architecture in the mid sixties and the beginning of the 70's was another thing... Archigram, Alison & Peter Smithson, Buckminster Fuller, Renzo Piano with Richard Rogers, and a long long list of very different approaches to architecture. That now seems to be gone (obviously not their influence). It's fascinating to see this Expo and all the futuristic buildings constructed. Check the photos.




Friday, November 12, 2010
Bizarre, nasty, clean, crazy, rough, colorful, neutral, playful, boring, funny, interesting... and much much more is what this hotel is offering. If Tokyo Designers Week 2010 were looking for publicity obviously this is one of the best ones I have ever seen. Its not a supermegastar architect doing a whole floor of a hotel... This is a 1 room uniqueness, each single room doesn't have anything to do with any of the other and you can indeed spend the night there but for a short period of time as it will disappear after the Designers Week. Also the fact that is pure Chaos makes this insubstantial building much much more appealing and interesting.
Tokyo Designers Week 2010
Llove
Even though this has more to do with interior design than architecture I have to say that I found here some radical approaches that are remarkable... For instance the way limits are diluted but keeping the original structure of the facade and at the same time contrast has been enhanced with the rest of buildings around. Rough materials are everywhere but there is some clean wave around the bulding, distribution is uneven and it is seriously hard to tell if there are different spaces or everything is continuous (to me both things at the same time). This is one of my touché exceptions of interior design. I wish I could see more of these approaches in architecture.
Rolf.fr
Zecc Architecten
Monday, October 25, 2010
I found this in my search for modular houses. It's interesting the fact that there are certain companies in the market that sell modular houses in tiny pieces and you can buy a full house or just buy little by little and end up with a regular size house after a while or just stick with one module and live there forever. It's pretty much architecture without architects, which I think it is a really interesting concept after all.
In this case the company is from Switzerland. Basic units start at 35,000 USD which is fair enough as some other examples listed before are not as cheap as this one.
Add a Room
I were in the Architectural Biennial in Venice last week, and one of the most promising things for me to watch was this indoor clouds. But sometimes destiny plays its own way and I end up watching a room full of humidity and thats about it. Even though it wasn't the Biennial fault nor the artist, the problem is that in order to make interior clouds there must be certain conditions (stacking a warm humid layer 25º and 100%RH between a lower cool dry layer 18º and 40% RH and a higher hot dry layer of 37º and 60%RH) without these conditions clouds won't form indoors.... So the problem there was that the door was open half of the time because it is an exhibition and you can't forbid people from moving to the next intervention in their way, and obviously it was impossible to keep the air in the proper form. But anyway I still think that it is very interesting, hopefully for the first visitors during the morning they probably had the chance to watch these spectacular cloud formations.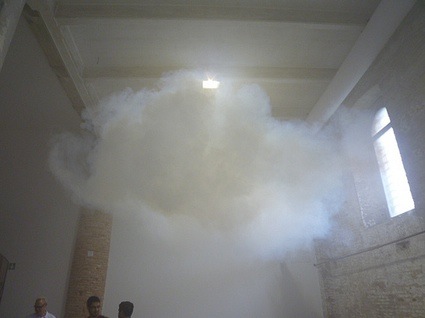 Tetsuo Kondo Architects
Transsolar